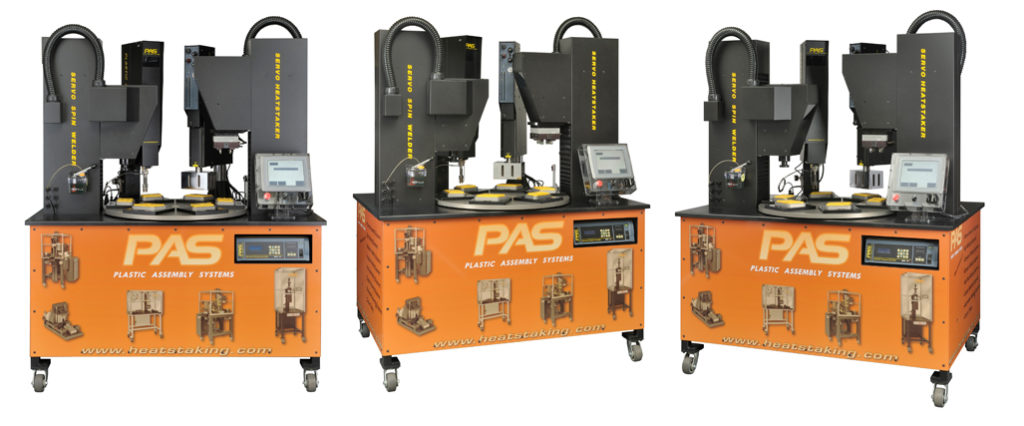 Plastic Assembly Systems offers custom, fully integrated moveable work stations incorporating four operations with rotary table indexing. Choose from our top-of-the-line range of assembly equipment which includes hotplate welding, ultrasonic welding, vibration welding, spin welding, heatstaking, heat insertion, date coding, degating, and hot air/cold upset staking.
From the workstation-level controller, the operator monitors all four machines, and sequences the order in which the operations must occur, including alternative routing sequences, if allowed. The controller also keeps track of part count and location.
This four-operation workstation features our wide range of standard and custom tooling and fixtures—from simple machined shapes to CNC contour milled shapes—designed and built to meet your exact assembly requirements. Additional pneumatic or manual part clamping/ejection and vacuum/expansion can be integrated into the lower tooling.
Along with the equipment, we offer a wide range of staking, welding, and insertion tips, along with heated probes and platens to hold and operate the tips.
For ultrasonic welding, we offer custom converters, boosters, and ultrasonic horns tailored to your application.
We also offer precision machined tuned upper drive heads and lower fixtures for vibration welding.
For spin welding, we manufacture custom drive heads and upper tooling with keyed features to drive one-half of the assembly against a fixture mating part, with simple to complex fixtures including vacuum and expandable features to lock and drive your part.
At PAS Heatstaking, our attention to detail and 50-plus years of combined experience—not to mention the highest level of machines available in the industry—make us second to none.
Contact us today with your assembly needs. We will work with you to develop custom solutions to your application, while meeting and exceeding your requirements.