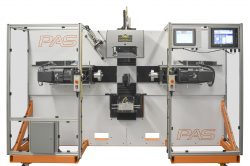 At PAS we understand your spin welding project may not work with a standard piece equipment. That's why we offer completely custom systems to suit you specific project needs. We utilize all our standard servo spin welding components to build a custom system. So if your all out of options, a PAS custom servo spin welder might be your ideal solution. This particular spin welder was designed by our team at Plastic Assembly Systems to weld two caps to one center tube simultaneously. Its also accommodate several sized parts and can be changed over on the fly for the different parts.
The Right Machine Makes All the Difference
At PAS, we understand the precision that is required to get the results you want with your spin welding setup. If you have any questions, contact our team by calling 203-393-0639 or toll free at 866-882-1701. We'll be happy to help you find the right solution for your needs.