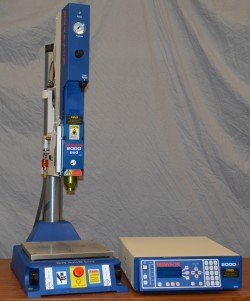 There are a few different ways to go about welding materials together. When it comes to creating products from plastic, ultrasonic welding is an efficient method. It involves using acoustic vibrations that, when applied to various types of plastic materials, can create a solid-state weld. There are many different welders available from Plastic Assembly Systems, including the Branson 2000 Series ultrasonic welder.
Quality Systems When You Need Them
The Branson 2000 Series is a great choice for users who require detailed process control or more control over the quality of the weld. Most models offer a variety of welding modes for the user to choose from, including
Peak Power Welding
Energy Compensation
Energy
Time
Distance
The Branson 2000D unit provides 20 kHz and 2200 watts and comes with a 2000 AED press. Most Branson units are compatible with a variety of accessories and Plastic Assembly tools. Enjoy a converter and your choice of booster with this order.
PAS Makes the Difference
When you're looking for tools for plastics welding or heat staking, PAS is the place to go. Our passion is thermoplastics, and we have spent an extensive amount of time developing proprietary systems and getting used systems into prime condition once again. If you have a question about thermoplastics, we probably have the answer. You can check out our resources page to learn more or get some useful welding tips by watching a few of our welding videos. Call us directly to ask our knowledgeable team members any questions you might have about our products or processes. We're also happy to help you place an order.
Place an Order Today
A good ultrasonic weld starts with a quality system. Place your order for the Branson 2000D unit today by contacting us at 203-393-0639 or toll free at 866-882-1701. From used welders to completely new thermal assembly systems, we're happy to help you find what you need.