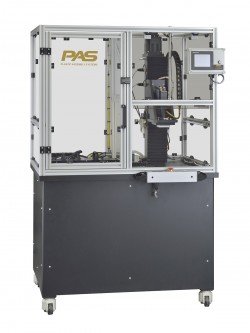 Hot plate welders are commonly available to join parts in either a vertical or horizontal plane. Some typical applications of hot plate plastic welding include automobile batteries, washer fluid tanks, light fixtures, and fuel tanks.
Options include closed loop process controls and a touch screen human-machine Interface for quick and easy setup and user-friendly operation. Multiple-program memory storage and easy tooling changeover design gets you back into production quickly.
Non-contact measurement and inspection systems available to generate accurate, repeatable part measurements and output data automatically to a computer.
At PAS, we are committed to providing superior quality plastic assembly solutions, top-notch service and technical support. Our personal attention to detail on the plastic assembly equipment we provide and the individual needs of our customers is what sets us apart.