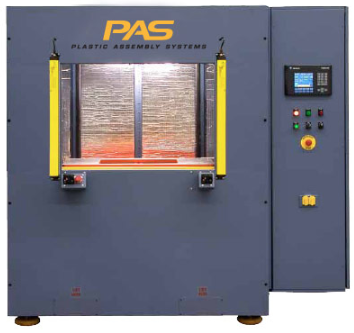 Plastic Assembly Systems offers a complete line of linear vibration welders for small, medium, and large parts and applications. These machines uses high frequency vibration of a heavy duty spring to create friction between the two parts. This melts the surfaces, followed by cooling and solidification into a joint.
Vibration welding produces high-pressure hermetic and very strong structural seals, and is more forgiving of variations in tolerance and wall thickness than most other methods of thermal assembly.
The PAS Model VWB3500 Vibration Welder is our smaller model, with a table size and maximum tool size of 38 in. x 18 in. The table opening is 24 in. x 10 in., with a maximum depth of 20 in., and the low (lift) table height is 41 in. This model boasts a hydraulic lift/clamp force of up to 4,500 lbs. (20,000) N and a maximum stroke height of 20 in.
The welder comes with a 200-240 Hz vibration head assembly powered by a 15 hp digital vibration drive. Its massive flame-cut bridge is the heaviest in class, and along with the super rigid four rail table system prevents unwanted vibrations. An optional rear sliding door makes way for pass-through operation.
The unit features an Allen-Bradley® SLC 5/03 controller with two available expansion slots. The standard Allen-Bradley Panel View 600 full color touch screen display provides an intuitive and comprehensive help menu and a choice of either English or Spanish menu structure.
The controller features automatic tuning with programmable amplitude of 0.040 in. to 0.070 in., and weld by time or weld by distance (absolute or meltdown). Customers may also specify a different PLC and interface.
PAS utilizes the latest technologies and finest materials to produce the highest quality thermal assembly products available. Our personal attention to detail on the equipment we provide and the individual needs of our customers is what sets us apart.
Contact us for quotes on vibration welders with custom frame sizes, lift tables, stroke lengths, etc., using standard vibration heads.
* Tool can in some instances overhang the back of the table by a modest amount. Consult PAS for more information.
** Custom lift table or custom frame can be quoted to allow for an uninterrupted "bucket" for greater depth.