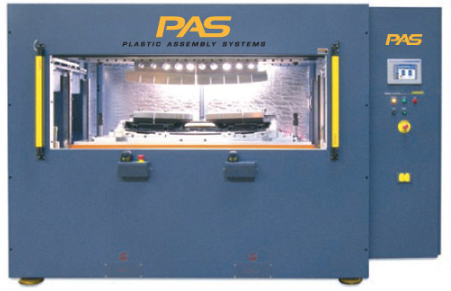 Linear vibration welding is used to join plastic parts through frictional heat and pressure generated through high-intensity linear vibration and a hydraulic lift table. This method lends itself to large or irregularly shaped parts and difficult-to-weld resins and composites that do not work well with other methods.
The PAS Model VWB4900 linear vibration welder is our largest, most powerful model, suitable for applications such as intake manifolds. Table size is 72 in. x 24 in., with a 20 in. depth. The unit weighs 7,800 lbs. and provides a maximum hydraulic lift/clamp force of 7,000 lbs. (31,000 N) with a 20 gallon oil reservoir for reduced thermal buildup and precise control of table speeds.
The vibration head assembly operates at 200-240 Hz and is powered by a solid-state 52 hp digital variable frequency drive. All our linear vibration welders feature a heavy one-piece flame cut bridge and super rigid four rail table slide system, which prevents vibration of the lower fixture during welding.
The unit features closed loop process controls with automatic frequency control and auto-tuning, as well as automatic vibration amplitude control during welding. Amplitude is programmable from 0.040 in. to 0.070 in. The controller can be set to weld by distance, time, or energy.
A standard multiple program memory storage and intuitive full-color touch screen interface makes operation easy, and allows multistage weld sequencing. And a printer option is available for recording weld history.
Additional options include position adjustable cycle activation switches, exterior work light, customer-specified PLC and HMI interface, custom paint, and rear sliding door for pass-through operation. Programmable pneumatic clamp or eject valves and/or programmable part-in-place sensing are also available.
Tooling for vibration welding includes an upper "tuned" drive head and a lower fixture. Quick tooling changeover allows multiple operations in a short time frame. At PAS, we offer custom engineered rugged components to ensure quality welds.
Our complete line of linear vibration welders offers end users the ability to run small, medium and large parts and applications. Custom quoted machines with non-standard: frame sizes, lift tables, stroke lengths, etc., using standard vibration heads available. Contact us for more information and a quote.
* Tool can in some instances overhang the back of the table by a modest amount. Consult PAS for more information.
** Custom lift table or custom frame can be quoted to allow for an uninterrupted "bucket" of greater depth.