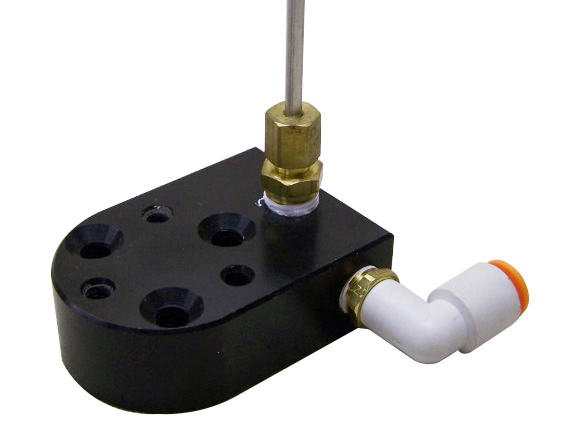 Heat staking, welding, and other techniques commonly used in thermoplastics involve the application of heat in order to mold the plastic into a specific shape. Just as important as the heating, however, is the cooling process. Plastic Assembly Systems has post cooling manifolds and other plastic assembly tools to help you with your plastic cooling processes.
Post Cooling and More
Our standard PAS post-cooling manifold is designed for use with your various thermoplastic probes and probe assemblies. It is quick to install, making it a convenient replacement to have on hand. This manifold should fit most round flange probes as well as T-probes. If you want to know for sure if our manifold will work with your system, just give us a call and talk to one of our knowledgeable team members.
Get Quality Components From PAS
PAS is known for quality, and this is due largely in part to our enthusiasm for thermoplastics. We have in-depth understanding of the various machines and techniques that go into plastics assembly. We can help you find the right equipment for your needs and any replacement part you require, be it for a new machine designed by us or used equipment from another manufacturer. We know how important your business is to you, which is why we design machines and components to be durable and get the job done right. For additional information regarding different types of welding and equipment, be sure to check out our videos section.
Call on Us for Information
Our friendly team has the answers you're looking for regarding heat staking and thermoplastics. We can even help you out when you're looking to contract PAS. Give us a call today at 203-393-0639 or toll free at 866-882-1701 for more information. You can also send an email with your questions to [email protected] or fill out our convenient contact form online.