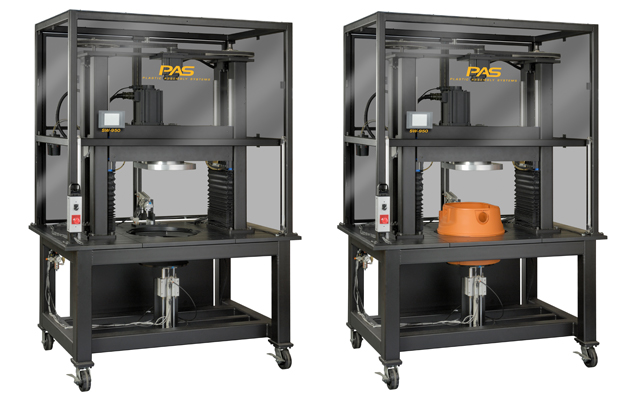 At PAS, we offer several standard dual servo driven spin welders to meet all your project needs.  The dual servo allows the user to control both the Z-axis within 0.001″ and the spin axis by 1/10th of a degree for more precise results. The SW950 is our largest standard machine offered, this machine is capable of welding up to 30″ diameter parts. The SW950 utilizes dual column, dual servo and an H frame design making this machine very rigid and very precise.
The SW950 offers many standard features
20″ of stroke
NO mechanical adjustments all machine adjustments are made through the touch screen display
1000 recipes available
4000 lbs of force available
Many standard options as well
The SW line couples new servo control technology with over 50 years of combined experience to bring to market the most advanced line of spin welding equipment. Servo control in the Z-axis and in the Spin allows for precise and rapid control of your spin welding applications. Our complete line SW750, SW850, SW900 and the SW950 offers end users the ability to run small, medium, and large parts and applications that require high precision and repeatability. The SW950 servo press can be used as a stand alone machine, or be offered as an automation machine allowing it to be easily integrated into your custom automated system.  If you have any questions, contact our team by calling 203-393-0639 or toll free at 866-882-1701. We'll be happy to help you find the right solution for your needs.