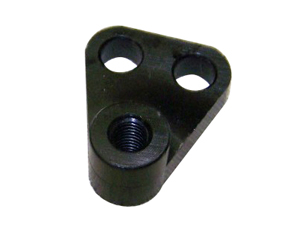 Manufacturing of plastic products encompasses items, materials, and tools of all different sizes. While using a heated platen to secure materials in place is useful, eventually many products require additional methods of assembly such as welding and securing through screws. Plastic Assembly Systems supplies 1/4-28 tip blocks for heated platen to make room for the hex and cup screws your products and Plastic Assembly tools eventually require.
Make Room for Blind Screws for Pulleys, Gears, and More
The impression found on this tip block is large enough for a 1/4-28 screw. This particular screw type is known as a hex, Allen, or cup screw. As a blind screw, it is particularly useful in applications that require the screw head to remain flush with or inside of the product. Simply attach the tip block to your heated platen and press down to secure the screws in place. While these types of screws are often associated with products such as pulleys and gears, they can be used for any number of applications ranging from metal work to plastic. These tips are easy to quickly attach to your press and remove to make room for any of the other various heated platen tips PAS offers.
Why PAS?
The team at PAS has insider knowledge concerning plastic heatstaking. We understand plastics and the various manufacturing processes to create a variety of different plastic materials. We also understand that the heatstaking and welding processes are much easier when you have access to the best equipment and resources. We'll help you find the tools you need, from process controllers to platen tips, while providing excellent customer service every step of the way.
Contact Us Today
To learn more about our 1/4-28 tips and our many other types of tip blocks for heated platen, contact PAS at 866-882-1701. We'll be happy to supply you with information regarding pricing and use for any of our products!