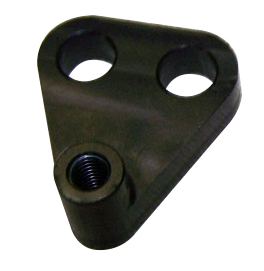 There are several different ways to use a heated platen. While there are many individuals who associate a platen with only flat pressing, Plastic Assembly Systems has a variety of tools to help you get the most out of your press. Many of our Plastic Assembly tools are designed with interchangeable tips. PAS supplies a wide range of tips including the 10-32 tip block for heated platen.
The Usefulness of the 10-32 Tip Block
Our 10-32 tip block attaches easily to your heated platen. Once it is properly seated, it becomes the perfect tool for securing 10-32 screws into place. These screws are used in a wide number of applications in metal and plastics assembly. This tip works around the screw without causing damage to the screw itself or the material in the platen. When you're ready to use a tip block for a screw of a different size, simply remove the 10-32 tip block and attach your new one.
Why Choose PAS?
PAS supplies a wide range of tip blocks for use with the heated platen. We understand that there's no one type of screw that you will use for every single one of your plastic or metal products. Our high-quality tip blocks are as varied as your screws, and our excellent customer service team is ready and willing to help you find exactly what you need.
Order Yours Today
If you're waiting for the right tip block to secure your 10-32 screws, contact PAS right away by calling 866-882-1701. We'll provide you with pricing and all of the other information you require. Our team is ready to answer your questions and point you in the right direction for the plastic heatstaking and welding tools you need.