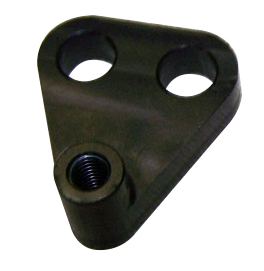 Plastic Assembly Systems has a variety of tools to help you get the most out of your press. Many of our Plastic Assembly tools are designed with interchangeable tips. PAS supplies a wide range of tips including the 10-32 tip block for heated platen.
Using the 10-32 Tip Block:
Our 10-32 tip block attaches easily to your heated platen. Once properly seated, it becomes the perfect tool for securing 10-32 screws into place. These screws are used in a wide number of applications in metal and plastic assembly. This tip works around the screw without causing damage to the screw or material in the platen. When you need to use a different sized screw, swapping tip blocks to different sizes such as our 1/4-28 tip block is easy.
Contact Us Today!
Since 1999, PAS has provided plastic joining solutions internationally to sectors including automotive, medical, electronics, and more. We understand that heat staking is much easier when you have access to the best machines, design guidelines, and customer service.
To learn more about our 10-32 tips and other types of tip blocks for heated platen, contact PAS online or by phone at 877-488-9275. Call toll free at 877-488-9275.